Exch w/ Turkers
website, dialogues, 2020.


Parceria com aarea e Grupo de Arte e Inteligência Artificial (GAIA), C4AI, Inova USP.
Partnership with aarea and Group of Artificial Intelligence and Art (GAIA), C4AI, Inova USP.
>>>>>> https://exchanges.withturkers.net/
"Exch w/ Turkers" é um website que evidencia o papel de humanos nas Inteligência Artificial (IA) e suas condições de trabalho. Embora frequentemente apresentadas como automáticas e autônomas, as IAs dependem do trabalho de muitos humanos.
Nas janelas de bate-papo deste projeto, é possível conversar com algumas dessas pessoas que realizam os Human Intelligence Tasks (HITs), pequenas tarefas que são utilizadas para construir os bancos de dados das IAs. Este trabalho é marcado por uma lógica de pertencimento nulo diante do que que se constrói e de baixíssima remuneração – enquanto o salário mínimo nos EUA é de 7,25 US$ por hora, esses trabalhadores remotos recebem em média não mais que 2 US$ / hora.
Quem são os Turkers?
Atualmente, cerca de 500.000 pessoas realizam esse tipo de trabalho digital na plataforma
Amazon Mechanical Turk (MTurk)
, mantida pela empresa norte-americana Amazon. Eles são chamados de Turkers e aqui há uma explicação
para saber o porquê
. Uma pesquisa realizada por
Difallah et al (2018)
mostra que 75% deles são dos EUA, 16% da Índia e os 9% restantes de outros países. Estima-se que 2 mil a 5 mil trabalhadores podem ser encontrados na plataforma a qualquer momento
(Ipeirotis, 2018)
.
A massa de trabalhadores deste subsolo das práticas tecnológicas aumenta a cada dia e é considerada "the final telos of algorithmic labor" (
Finn, 2017
). Trata-se da nova conquista da economia capitalista algorítmica, a do "não lugar" de trabalho, território tão diluído quanto difícil de se regulamentar. Consideramos também que é um caso prático do que Marx chama de externalização (entausserung) que faz não apenas o trabalho se tornar algo com existência externa, mas também que existe fora do criador. Pesquisadores utilizam termos como "infoproletariado" (
Antunes e Braga, 2018
, além de
Grohmann, 2018
) para caracterizar o conjunto desses trabalhadores. A oportunidade dos Turkers conhecerem e estabelecerem contato entre seus pares trabalhadores é praticamente nula, o que impede a articulação da categoria em torno de uma regulamentação trabalhista, por exemplo. Como reação a isso, "Exch w/ Turkers" reserva um espaço exclusivo para os Turkers conversarem entre si, podendo ser somente visualizado pelo público geral.
Para realizar "Exch w/ Turkers", publicamos uma chamada de participação no próprio Amazon Mechanical Turk (MTurk). A partir daí, foram selecionados 5 Turkers de perfis variados, contratados para trabalhar 30 minutos por dia (com exceção de domingo, dia livre) respondendo as perguntas do público participante. Este tempo foi estimado de modo a não se sobrepor a suas cargas horárias rotineiras, e o valor hora/trabalho pago foi de 16 dólares.
Como funciona o Exchanges with Turkers?
A estrutura deste website segue a lógica dos chats da década de 1990, época em que a internet ainda não se via dominada por grandes plataformas e pelo capitalismo de vigilância. A qualquer momento, você pode iniciar uma conversa com um desses profissionais. Para enviar sua pergunta, sugerimos que você leia antes o perfil deste no símbolo "?" – isso irá permitir saber um pouco mais de seu contexto.
Na contramão da instantaneidade dos meios de comunicação atuais, os Turkers não estarão on-line de prontidão para responder todas as mensagens em tempo real. Para atuarem no site, foi elaborado um contrato e um conjunto de compromissos pautados por questões éticas que pode ser acessado
aqui
.
Por que isto importa?
Parte considerável da ideia de "automatismo" só se viabiliza graças a uma ampla exploração de forças de trabalho produzidas por humanos – o que nos permite afirmar que parte dos sistemas das IAs são, na verdade, não processos resultantes de máquinas "inteligentes", mas de máquinas com humanos inteligentes. Enquanto engenheiros, programadores e outros profissionais do campo das IAs são remunerados de acordo com um teto salarial médio praticado (além de terem visibilidade), os Turkers aqui dispostos a dialogar com o público são invisibilizados a ponto de serem considerados
"ghost workers"
. Mesmo que momentaneamente, queremos tirá-los da abstração da nuvem e repensar de forma radical o mundo do trabalho em uma sociedade tecnocapitalista. Para isso, nada melhor do que dialogar com aqueles que estruturam esse sistema e que praticamente nunca são considerados.
* Exch w/ Turkers é um projeto concebido e desenvolvido por
Bruno Moreschi
,
Bernardo Fontes
,
Guilherme Falcão
e
Gabriel Pereira
. Uma parte importante da programação do site foi realizada por
Luciano Ratamero,
a quem agradecemos imensamente pelo comprometimento. O projeto "Exch w/ Turkers" no aarea tem consultoria e infraestrutura de tecnologia de Adriano Ferrari.
* O projeto esteve em exibição no site
www.aarea.co
entre 13 e 27 de março de 2020, de modo que permite a oportunidade de diálogo com os Turkers. Após essa data, o site migra para o endereço
exchanges.withturkers.net
, onde a pesquisa sobre os Turkers seguirá em desenvolvimento.
* Para mais informações sobre osTurkers, recomendamos começar com essa
lista de leituras
.
Exch w/ Turkers is a website that brings to light the role played by humans in running Artificial Intelligence (AI), as well as their working conditions. Though frequently labeled as automatic and autonomous, AIs depend on work done by humans.
In the project's chat window, one can chat with some of the individuals who carry out Human Intelligence Tasks (HITs), small tasks that are used in the development of AI data banks. This kind of work is marked by the utter lack of belonging to that which one creates or builds and very low wages – while the minimum wage in the USA is US$ 7,25 an hour, these remote workers receive, on average, US$ 2 / hour.
Who are the Turkers?

Currently, around 500.000 people are employed in this kind of work through the
Amazon Mechanical Turk (MTurk)
digital platform, run by the American company Amazon. These workers are called turkers –
here's why
. A study conducted by
Difallah et all (2018)
shows that 75% of turkers are based in the USA, 16% in India and 9% in other countries. It is estimated that 2 to 5 thousand workers are active on the platform at any given moment
(Ipeirotis, 2018)
.
The number of active workers in this underground of technological practices grows by the day and is considered the "final telos of algorithmic labor"
(Finn, 2017)
, a new standard achieved by the algorithmic capitalist economy, that of the "non-places" of work, a territory both diluted and hard to regulate. We also consider it a practical case of of Marx called externalization or alienation (entaüßering) which not only transforms work into something with an external existence, but also into something that exists outside and despite its creator. Researchers use terms like "infoproleteriat" (
Antunes and Braga, 2018
, and
Grohmann, 2018
) in order to characterize this set or class of workers. The opportunity given to the Turkers to get to know their coworkers, and to establish contact between themselves, is virtually null, and this hinders, for instance, the articulation of the category inasmuch as labor regulations are concerned. As a reaction to this, "Exch w/ Turkers" has created an exclusive space for turkers to communicate between themselves, and which can only be seen by the general public.
In order to establish "Exch w/ Turkers", we published an open call on the Amazon Mechanical Turk (MTurk) website. Following this, 5 Turkers of varied profiles were selected and hired to work for 30 minutes a day (excepting Sundays, their day off) answering questions asked by the participating public. This time period was calculated so as not to interfere with their usual workload, and the wages were set at 16 dollars per hour.
How does Exchanges with Turkers work?
The website's structure is based on the logic of chats from the 1990s, a time when the internet was not yet dominated by big platforms and surveillance capitalism. One may start a chat with these professionals at any given moment. Before asking your question, we suggest you read the worker's profile by clicking on "?" – this will allow you to learn more about his or her context.
Rejecting the instantaneousness of current mediums of communication, the Turkers will not be online and available to answer the questions in real time. In order to take part in the website, a contract was drawn out containing a set of commitments and a code of conduct policy which must be closely followed. This contract can be found
here
.
Why does this matter?
A considerable part of the idea of "automatism" is only made possible due to the wide employment of a human workforce – allowing us to state that part of the AI systems result not from "smart" or "intelligent" machines, but from machines that are programmed by intelligent humans. As engineers, programmers and other IA professionals are paid according to the current wage ceilings (while also having visibility), the Turkers who are willing to communicate with the public are made invisible to the point of being considered
"ghost workers"
. Even if temporarily, we wish to remove them from the abstraction of the cloud and radically rethink the idea of work in a technocapitalist society. In order to do so, there is no better way than to communicate and dialogue with those who create the structures for these systems and whose work goes virtually unrecognized.
* The "Exch w/ Turkers" project was conceived and developed by
Bruno Moreschi
,
Bernardo Fontes
,
Guilherme Falcão
and
Gabriel Pereira
of the GAIA. An important part of the website's programming was carried out by
Luciano Ratamero
, who we thank immensely for the commitment. Aarea's technology and infrastructure consultant: Adriano Ferrari.
* The project was showed at the
www.aarea.co
from March 13 to 27 = 2020, allowing visitors to communicate with the Turkers. After this date, the site was transferred to
exchanges.withturkers.net
, where research on Turkers will continue to be conducted.
* For more information of Turkers, we recommend
this reading list
.


Turkers bios.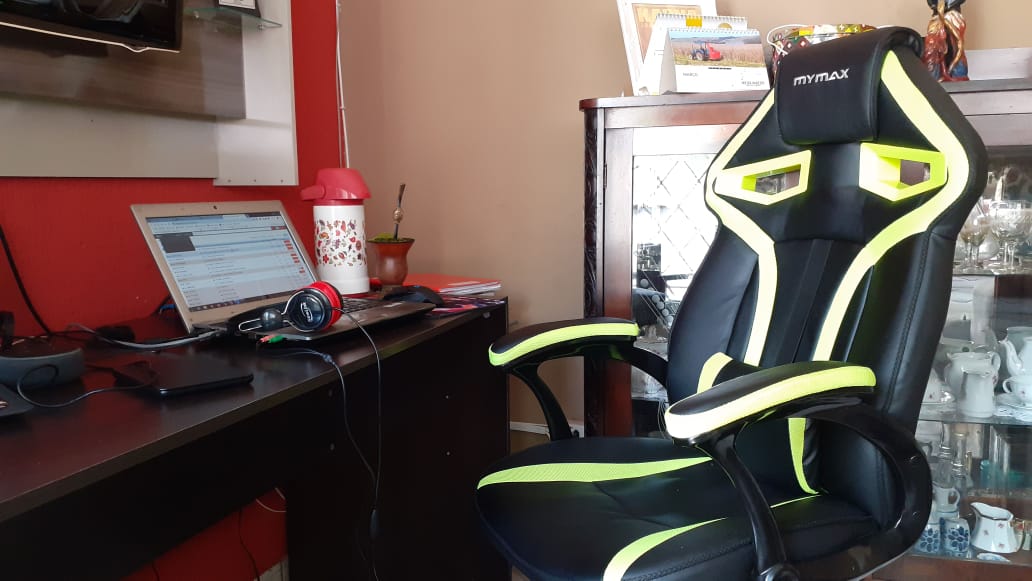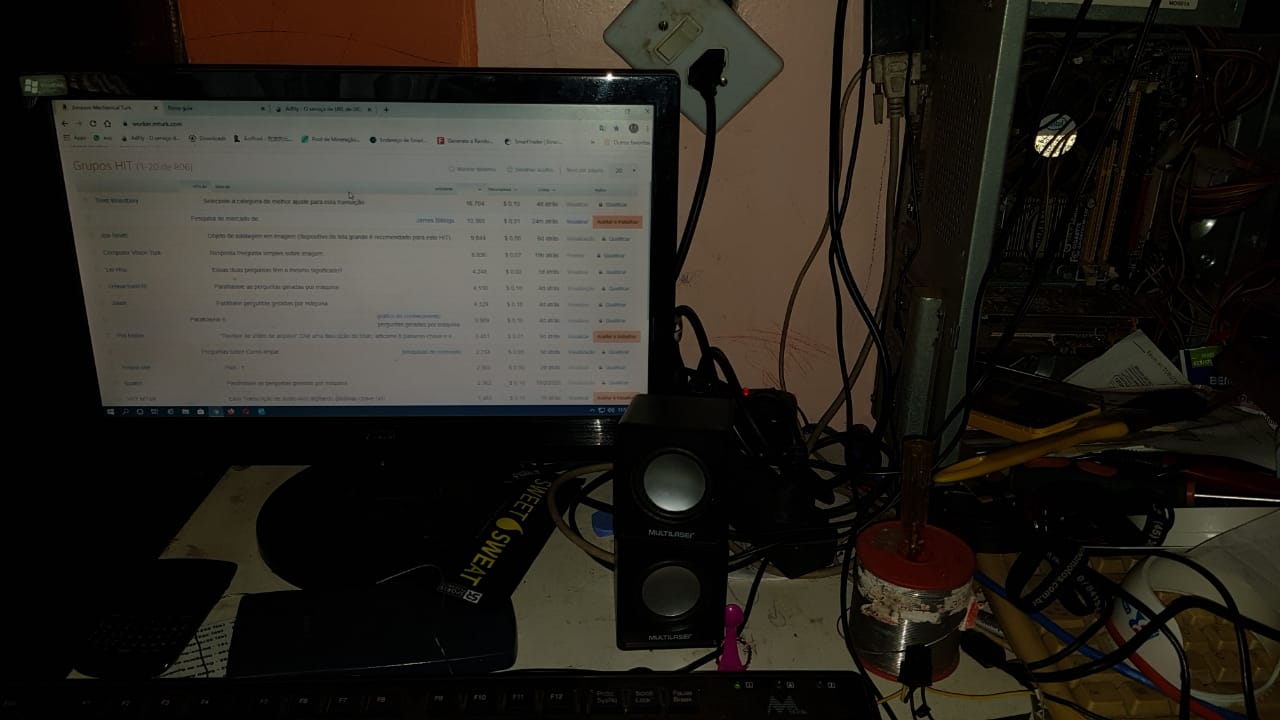 Ambiente de trabalho dos turkers = suas próprias casas.
Turkers' working environment = their own homes.